Image Consultants, Image Team - Qualified image consultants and make up artists
Have you ever asked yourself, "What is my personal image?"
For all of us, whether we are public figures or not, managing our appearance is an important part of whom we are. It makes a visual statement about our personality and our lifestyle, as well as indicating our abilities and confidence. In today's world IMAGE really does matter.
We specialise in Image Consulting, Makeovers, corporate clothing and Corporate images – Image consultants
It is in effect how people perceive you and what the world can expect from you. Remember you don't get a second chance to make a first impression. As Image Consultants we assist people in ensuring that their image is coherent with the results they want to live.
Whether you are a top executive or whether you merely want to make your mark as an individual, we help you realize your ability to influence by means of your personal packaging and branding. As qualified Image Consultants we will give you correct advice by means of following, an analysis process which will be objective and allow us to advice according to the colours and style that will suit you as an individual.
Men and women do not realise how important fashion choices and grooming are and how they impact on their profession and personal success. Whether it is having the correct look for that all important business meeting or a first date. We believe that image is more than just the clothes you wear or hair and makeup, your image is about presenting the best you are! We can address your image needs.
Our job as stylists is to inspire you to make the correct choices in order to make you feel wonderful as an individual, regardless of what the current fashion or trends are. Fashion changes constantly but having the correct image needs to be a constant. The secret is to know what suits you.
How many men keep on wearing the same boring black and navy suits, with the standard blue shirt? Are you confused when standing in front of your closet? Most men don't realize how much fashion choices can impact both their professional and personal lives.
First impressions do always matter, your appearance, hair, makeup and clothing are all as important as your smile. When you project an image of confidence, other people perceive you as being more attractive and you are more likely to succeed in business and social situations.


BEFORE AFTER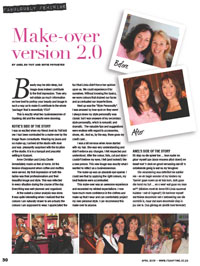 ABULOUSLY FEMININE - Make-overs by Anel du Toit and Kotie Potgieter
Beauty may be skin-deep, but image does indeed contribute to the first impression. Then why not obtain as much information on how best to portray your beauty and image in such a way as to make it contribute to the whole'package' that is essentially YOU?
This is exactly what two businesswomen of Gauteng did and the results were stunning. Read more about the Article